Finally in the Blogosphere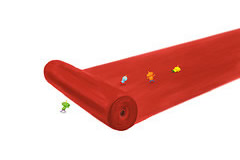 First post!
Roll out the red carpet… I can't believe I've been in the industry for almost a decade and have never started a blog.
A bit about myself. I'm an User Experience Developer (client-side development) with the Habañero Consulting Group.
I've recently been tasked to research how best to get our User Experience Group's blog up and running. We've pretty much decided to go with WordPress. If it's good enough for Jeffery Zeldman, it's good enough for me.
Through the WP website I found BlueHost, an inexpensive hosting service. Can't go wrong with $8/mo for 30gigs of storage and a huge gob of bandwidth. Hopefully they may finally give my website a proper home.
Over the next few weeks, and probably going into months, I'll document the trials and tribulations of developing and designing a blog from the point of view of a guy who's livelyhood depends on the web.
So welcome to SingChan.com… more to come.